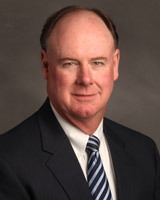 Greg Sigmund, CFA
Head of Global Research
Chief Operating Officer of Wells Fargo Investment Institute
Wells Fargo & Company
Greg Sigmund is the head of global research and the chief operating officer for Wells Fargo Investment Institute, a subsidiary of Wells Fargo Bank N.A., which is focused on delivering the highest quality investment expertise and advice to help investors manage risk and succeed financially. Wells Fargo Investment Institute serves clients of Wealth and Investment Management, a division of Wells Fargo & Company comprised of Wells Fargo Private Bank, Wells Fargo Advisors, Wells Fargo Institutional Retirement, and Abbot Downing businesses, accounting for more than $1.8 trillion* in assets under administration.
Mr. Sigmund is responsible for the investment research function and for managing the business and operational aspects of WFII. Concurrent with this role, Mr. Sigmund also serves as director of the Advisory Services Group of Wells Fargo Advisors and he was director of securities research at Wells Fargo Advisors predecessor firm A.G. Edwards. As an equity research analyst, his research coverage responsibility included real estate investment trusts (REITs), electric utilities, and household-product companies. He has more than 34 years of experience in financial services.
Mr. Sigmund received a Bachelor of Science in Finance and Masters of Business Administration from Saint Louis University and is a CFA® charterholder. Mr. Sigmund holds the following securities licenses: 7, 16, 66, 24, 86, 87 and he is a Securities Principal. He is located in St. Louis.