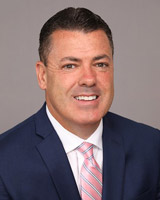 Kevin Sullivan, CFA
Senior Research Director
Global Manager Research
Wells Fargo Investment Institute
Wells Fargo & Company
Kevin Sullivan is a senior research director for Global Manager Research (GMR), a division of Wells Fargo Investment Institute. The GMR team conducts due diligence and provides research on the third-party money managers used throughout Wells Fargo's brokerage, private banking, family wealth, and retirement businesses.
In his role, Mr. Sullivan serves as team leader for global equities. Prior to joining Wells Fargo in 2013, Mr. Sullivan worked with Bloomberg LP as an investment strategist and senior research analyst. Prior to Bloomberg, Mr. Sullivan led the Manager Research Group at UBS. Early in his career, he worked as a sell-side equity analyst, and later as a buy-side equity analyst for a long-short equity hedge fund. He has more than 25 years of experience in financial services.
Mr. Sullivan earned a Bachelor of Science in Business Administration from University at Albany and a Masters of Business Administration in Finance from Stern School of Business at New York University. He is a CFA® charterholder and is located in New York City.
Global Manager Research (GMR) is a division of Wells Fargo Investment Institute, Inc. (WFII). WFII is a registered investment adviser and wholly owned subsidiary of Wells Fargo Bank N.A., a bank affiliate of Wells Fargo & Company.
Wells Fargo Advisors is registered with the U.S. Securities and Exchange Commission and the Financial Industry Regulatory Authority, but is not licensed or registered with any financial services regulatory authority outside of the U.S. Non-U.S. residents who maintain U.S.-based financial services account(s) with Wells Fargo Advisors may not be afforded certain protections conferred by legislation and regulations in their country of residence in respect of any investments, investment transactions or communications made with Wells Fargo Advisors.
Wells Fargo Advisors is a trade name used by Wells Fargo Clearing Services, LLC and Wells Fargo Advisors Financial Network, LLC, Members SIPC, separate registered broker-dealers and non-bank affiliates of Wells Fargo & Company.