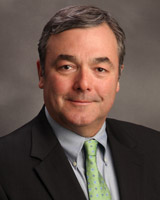 Scott Wren
Senior Global Equity Strategist
Wells Fargo Investment Institute
Wells Fargo & Company
Scott Wren is a senior global equity strategist for Wells Fargo Investment Institute, a subsidiary of Wells Fargo Bank, N.A., which is focused on delivering the highest quality investment expertise and advice to help investors manage risk and succeed financially. Wells Fargo Investment Institute serves clients of Wealth and Investment Management, a division of Wells Fargo & Company comprised of Wells Fargo Private Bank, Wells Fargo Advisors, Wells Fargo Institutional Retirement & Trust, and Abbot Downing businesses.
Mr. Wren produces strategy and guidance recommendations for global equities. With his knowledge of the financial markets, he is often quoted in national media outlets including Reuters, The Chicago Tribune, The Los Angeles Times, The Washington Post, The Associated Press, and The Wall Street Journal. He has appeared in interviews on Bloomberg Television, the Fox Business Network, and CNBC's "Nightly Business Report." Prior to joining Wells Fargo Advisors predecessor A.G. Edwards in 1998, Mr. Wren worked as a senior foreign exchange dealer for The Boatmen's National Bank of St. Louis. He began his career on the trading floor of the Chicago Mercantile Exchange and has more than 30 years of experience in financial services.
He received a Bachelor of Science in Business Administration from the University of Kansas and a Master of Finance from Saint Louis University. He is located in St. Louis.