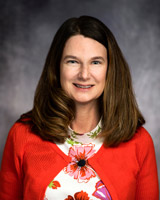 Tracie McMillion, CFA
Head of Global Asset Allocation Strategy
Wells Fargo Investment Institute
Wells Fargo & Company
Tracie McMillion is the head of global asset allocation strategy for Wells Fargo Investment Institute, a subsidiary of Wells Fargo Bank, N.A., which is focused on delivering the highest quality investment expertise and advice to help investors manage risk and succeed financially. Wells Fargo Investment Institute serves clients of Wealth and Investment Management, a division of Wells Fargo & Company comprised of Wells Fargo Private Bank, Wells Fargo Advisors, Wells Fargo Institutional Retirement & Trust, and Abbot Downing businesses.
In her current role, Ms. McMillion leads the development of global investment strategy. She oversees the creation of asset allocation recommendations and writes economic and market commentary and analysis. Ms. McMillion has been quoted in The Wall Street Journal and Barron's, on CNBC, and in other financial media outlets.
Ms. McMillion has more than 20 years of experience in financial services. Prior to her current role, she served as an asset allocation strategist and a senior investment research analyst for Wells Fargo and predecessor firms. Earlier in her career, she served as lead portfolio manager for Evergreen Private Asset Management where she managed assets for high-net-worth clients and philanthropic organizations.
Tracie earned a Bachelor of Arts in Economics and a Master of Business Administration from the College of William and Mary in Virginia. She is a CFA® charterholder and member of the CFA North Carolina Society. Ms. McMillion is located in Winston-Salem, North Carolina.