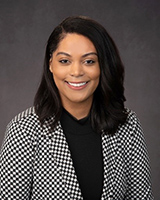 Veronica Willis
Investment Strategy Analyst
Wells Fargo Investment Institute
Wells Fargo & Company
Veronica Willis is an investment strategy analyst for Wells Fargo Investment Institute, a subsidiary of Wells Fargo Bank, N.A., which is focused on delivering the highest quality investment expertise and advice to help investors manage risk and succeed financially. Wells Fargo Investment Institute serves clients of Wealth and Investment Management, a division of Wells Fargo & Company comprised of Wells Fargo Private Bank, Wells Fargo Advisors, Wells Fargo Institutional Retirement & Trust, and Abbot Downing businesses.
In her role, Ms. Willis assists in research and development of asset allocation recommendations and analysis of the economy and financial markets. Prior to her current role, she served as a research analyst for strategy around developed and emerging countries, commodities, and currencies. She began her career at Wells Fargo in 2012 and is an active member of several team member networks including the Wells Fargo New Professionals Network, Women's Team Member Network, and Black/African American Connection.
Ms. Willis earned a Bachelor of Arts in Mathematics with a concentration in Statistics and a Bachelor of Arts in Spanish with a minor in Economics from Washington University in St. Louis. She is based in St. Louis.