Get an overview of the highlights of WellsTrade's powerful features.*
Getting started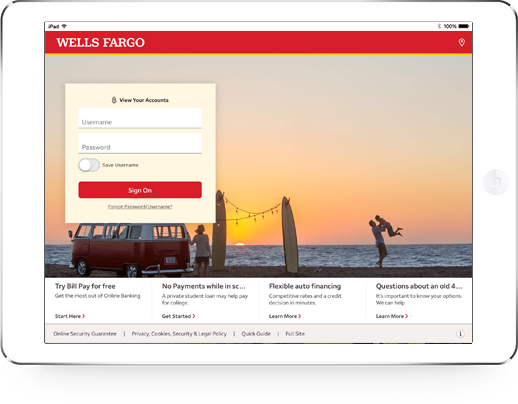 Open your WellsTrade investment account online or over the phone, with access to our friendly support staff if you need help.
Already have an online Wells Fargo Banking account? You can access both accounts using the same login information.
Funding your account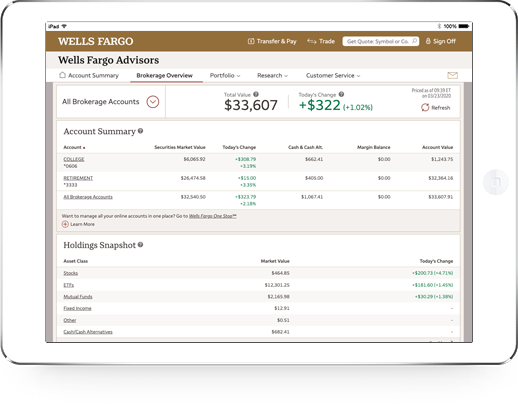 The easiest, and quickest, way to transfer money into your WellsTrade account is from a Wells Fargo Banking account. Of course, you can transfer money from other accounts, as well.
You'll be able to see all your account activity on the Brokerage Account Summary screen.
Accessing resources
Take advantage of the powerful resources and tools that come with your WellsTrade account, including:
Market news & notes
Commentary & analysis
Real-time data
Planning and financial calculators
Choosing your portfolio
When you're ready to choose where you'd like to invest, WellsTrade provides helpful tools, including the Stock Screener, the ETF Screener, and the Mutual Fund Screener to help you build a portfolio aligned with your goals.
Simply choose what you wish to purchase and the amount you'd like to invest.
Monitoring your portfolio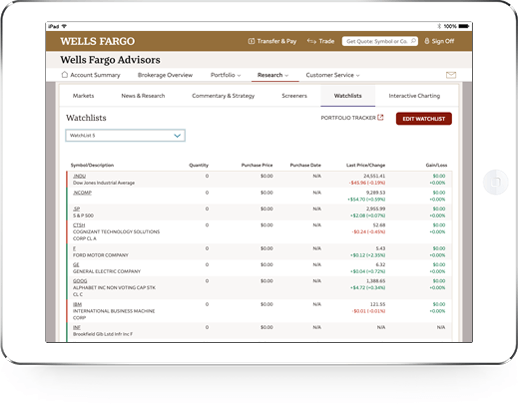 Easily monitor the performance of your investments on your smartphone,* tablet, or computer.
You can also set alerts to buy more or withdraw money when your investments hit a certain dollar amount.
Getting help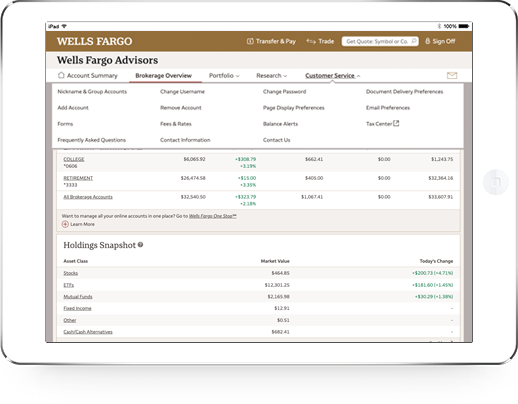 Our team of professionals are always available to help by email or phone.
*Some functions are not available on the mobile app.
Screen images are simulated. Features, functionality, and specifications appearing in those images may change without notice.
Use of stock symbols is for illustrative purposes only and not a recommendation.
Wells Fargo Bank, N.A., member FDIC, is a banking affiliate of Wells Fargo & Company.
Access to the service may be limited, delayed or unavailable during periods of peak demand, market volatility, system upgrades or maintenance, or electronic, communication or system problems, or for other reasons. During times of high volume of trading at the market opening, or intra-day, clients may experience delays in system access, or execution at prices significantly away from the market price quoted or displayed at the time the order was entered.